The demand for shared mobility has grown over the past decade, as a result of new societal trends and technology developments. Also the Coronavirus pandemic changed the way people move. Bicycles are one of the preferred car alternatives to commute within cities. The micro mobility market relies on speed and intelligence. Making bikes available when and where people need them is essentiell, but not easy. That's why suitable hardware and software is necessary. It allows a bike sharing operator to launch a bike-share fleet within days. Here are the top 12 bike sharing platforms you need to know (alphabetically sorted).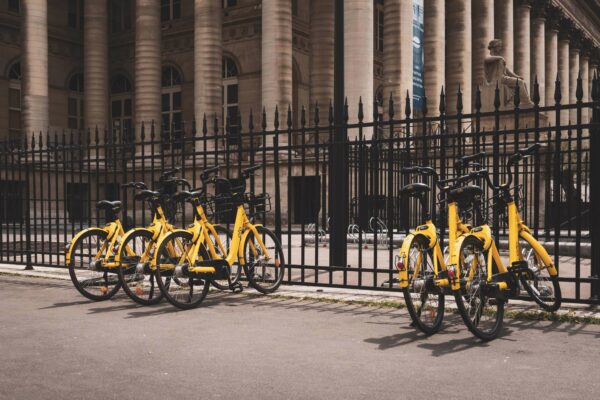 BLOOM
The first company in our list is BLOOM, a mobility sharing platform for sharing bikes, scooters and electric vehicles. It was concepted as an open sharing ecosystem. They offer a ready-to-use app and white label solutions for bike sharing operators. The platform is designed for projects of any size, no matter whether docking, dockless, public or private. One benefit: It is compatible with a growing list of hardware solutions.
evemo
Another mobility provider that offers both hardware and software: evemo. With evemo, not only cars, but also bicycles, e-bikes and cargo bikes can be shared easily. It provides a provider portal in which automated processes have priority. You can not only manage bookings here, but also create invoices and much more. On the other hand, users can register and reserve vehicles using the sharing app.
ElectricFeel
ElectricFeel is an all-in-one solution to operate an e-bike sharing or rental service. Their platform includes four different software to manage a bike-sharing platform: a fleet management software with real-time analytics and dashboards, in-field operations apps to maintain the fleet, mobile rider apps, and a revenue management solution for you to manage payments, invoices and customer relationships.
Joyride
Started as a bike-share management system and turned into a one-stop software platform: Joyride. This hardware-agnostic software was designed to seamlessly deploy an unlimited number of electric scooters and e-bikes. It gives bike sharing operators the freedom to choose the smart lock they want. The customisable dashboard includes real-time tracking and support alerts.
Lattis
Another platform that can't be missing here is Lattis. In contrast to the other micro mobility software, this one also provides their own hardware: the Ellipse. This smart bike lock is connected to the phone and provides keyless entry. Therefore, no docking or centralised station is required. Additionally, the Lattis fleet management dashboard helps operators to manage their bike fleet. The end customers (riders) use the Lattis mobile app to easily locate, pay and get access to a bike with a simple tap of their phone.
Moqo
With Moqo, bike sharing providers can effectively offer bikes and e-bikes. Administration and billing is handled all within the platform. For riders, everything runs in the MOQO app, from booking and unlocking to riding and bike return.
Movatic
Movatic is another software platform that allows operators to launch a bike sharing or rental system. Today, more than 150 operators are powered by Movatic across the globe. The open software platform is integrated with a variety of hardware.
Playmoove
Check out the multi-service platform Playmoove. It not only supports car sharing, but also scooter and bike sharing. Playmoove was designed as a hardware-agnostic platform, you can connect to it through any smart lock or tracking device. Some of the helpful features are real-time fleet data and location, invoicing and per-per-use payment possibility.
SharingOS
The next player in this list is SharingOS. It's a global mobility sharing company aimed to power up last-mile solutions across the globe. They provide end-to-end software and hardware solutions to operators. It offers a complete white-label iOS and Android app for free floating mobility sharing.
Sycube
Just like Tapkey, Sycube is located in Vienna. It's a full-range supplier of e-mobility solutions, which means that conventional bikes, pedelecs, e-scooters and e-cargo bikes are integrated in one system only. The tool provides everything that the operating company may need for the billing process, fleet management, tariff management and the rental process itself.
Vaimoo
Vaimoo is another smart and flexible vehicle sharing platform that allows the management of traditional bikes and e-bikes. It is adoptable for micro mobility public services, both for docked and free floating schemes. From the user app, it is possible to access the city map indicating the vehicles available in real time and book them. Also the payment is automatically charged at the end of the riding session. They provide an app where users can verify the vehicle's current position and its availability for bookings.
Wundermobility
Last but not least is Wundermobility in our list. This technology needs to be mentioned when speaking about launching and scaling shared mobility services—no matter, if you're looking for a station-based rental technology or free-floating vehicle software. Wundermobility is used in over 100 cities around the world.
Is there any bike sharing platform missing? Or do you think your bike sharing software should also be listed here? Then contact us and let's talk about how the Tapkey technology can enable mobile access to bike hubs, bikes and helmet lockers.