The real estate industry is changing. PropTech companies offer digital solutions to optimise processes in this sector. Since access control is also an important part of property management, it is important for us to stay up to date. PropTech expert Nikolai Roth explains in our interview to what extent the sector has changed due to the corona pandemic and which trends will determine the market in 2021.
1. As the Founder and Head of Maklaro and the Proptech blog, you have good insights into the German PropTech market. Which three major trends will shape the industry in 2021?
There is no question that the coronavirus situation over the past year has triggered a rethink in many industries—including the PropTech sector. I assume that there will be a change in how commercial and office properties are used. We have seen that flexible workplace models work very well and that huge office complexes must have adaptable benefits in the long term.
The effects of the pandemic will also be felt in consolidations in numerous areas. Covid-19 massively slows down the decisions of established players, taking into account that they have not necessarily been the most decisive in the past. To stick with your formulation, I think the last trend to stay will be BIM. Everyone thinks it's cool and nobody does it! The market is currently lacking a really comprehensive Building Information Modeling platform. If a PropTech really manages to get all trades on one platform, that would be a real gain for the industry.
2. The PropTech market continues to grow, with over 450 companies currently in the DACH region alone. How do you filter out exciting new business models?
The process has adapted to the scene in recent years. As you already said, there are now almost 470 companies in the DACH region, and this number is steadily increasing. When I started Proptech.de in 2016, the situation was rather different. In particular, filtering information, researching articles and maintaining the map project are far more extensive tasks today. I'm always on the lookout for the latest ideas that the industry has to offer. Networking and continuous exchange are particularly important here. However, new PropTechs often actively approach me and send me a pitch deck or something similar. But if you are really good, you usually stand out from the crowd without doing very much.
3. You distinguish between 13 different areas in your "PropTech map". In which application area have the most marketable solutions been found so far?
Actually, there are 11 areas as well as accelerators and associations, although you could also ask the question for these two areas. There is not one large sector of the map that dominates the others. I tend to observe a shift and fluctuation in investments. From my point of view, it is currently the areas of "rental and sale", "property management", "crowdfunding" and "visualisation". There have been significant investments here in the past twelve months.
4. In your opinion, what role does digital access control currently play in property management? And where do you still see potential?
For me, digital access management plays a central role in real estate management. In particular, managing the access rights of individuals can be regulated very easily. This is extremely practical, especially in larger complexes or office buildings. Digital access control is particularly useful when renting properties with high frequency, e.g. temporary rental, coworking spaces or student apartments and saves a lot of work, overhead and logistics. The keyword is "handover": a tiresome and time-consuming topic to this day. I still see potential in the private sector. It becomes particularly interesting when temporary access rights can be granted for domestic help or parcel services. I think there will be a lot of movement in this business area in the near future.
5. What do you wish for the future of the real estate industry?
Greater openness and stronger cooperation. The PropTech market is smart, innovative and growing rapidly. Unfortunately, the established companies in the industry, which could also benefit from the fast processes, rarely see these advantages. One reason for this, however, lies in the products offered by PropTech, which are often only isolated solutions. Here, bundle solutions must be set up through cooperation among PropTechs in order to solve problems more holistically. Another challenge for start-ups lies in the fact that they are often viewed as competition and not as an opportunity for further development together. However, 95% of PropTechs are dependent on cooperation with established companies as they pursue a B2B business model. As an industry, we should use synergies and understand that working with PropTechs leads to faster solutions. Effort from both "sides" of the industry would accelerate the development processes, which are still quite sluggish, and everyone would benefit immensely from it.
Interview with Nikolai Roth, Gründer | Maklaro & Proptech.de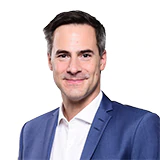 Nikolai Roth is the Founder and Managing Director of Maklaro, a provider of digital farming services for brokers, which enables an increase in efficiency along the entire value chain of real estate sales. Maklaro's long-standing market presence as a digital real estate agent forms the basis for the company's digital product portfolio. Nikolai Roth has also been blogging on PropTech.de about the digitisation of the real estate industry since 2016 and is also on the board of the German PropTech Initiative e.V.