anny x Tapkey – the Success Story
anny — a cloud-based application for booking, capacity and resource management. It boasts intuitive software which can be configured individually for every requirement, one of these being mobile access. With the integration of the Tapkey Web API, customers of anny now benefit from easy and secure smartphone-based access. In our interview with Co-Founder Oliver, we talked about trends in the online booking sector, what role mobile access plays and much more.
Hi Oliver, thank you for taking the time to talk with us. Can you tell us a bit about yourself and your business?
Hi, thank you for reaching out. I am Co-Founder and Head of Development at anny. Driven by worldwide trends such as shared workspace, service economy and scarce resources, we founded anny in 2020 with the aim to empower the world to share resources. We have developed a digital solution that simplifies the way companies, service providers and every single person manages, explores and books anything online.
We believe that there's huge potential in all the unutilized resources that surround us, and we should make availability more transparent. At anny, we always stay connected to our customers and listen to their needs and requirements. I think this is why anny is used by more than one hundred thousand people every day.
Can you tell us a bit more about anny's functions and all the possibilities an online booking tool brings to the table?
Whether booking rooms, renting equipment or making appointments—you often have to deal with email ping-pong and error-proneness. With anny, we get to the root of the booking problem by relying on extensive configuration options. This way, anny can be used in every imaginable industry and for every type of online booking. This can be office management, shared desks, sports and leisure, public facilities, consulting and much more.
The possibilities can be explained best with an example: someone has an office complex with 20 meeting rooms, which can be booked flexibly both internally and externally. The customer decides how long they need the room, e.g., from one hour to a whole week. Our software helps to digitalize the entire process: Online booking, real-time email communication, digital access to the room, display in the room showing the availability, online payment and automated invoicing. The customer can even add additional options like catering and block additional resources like projectors, flipcharts etc.
What trends should the online booking sector be looking out for?
Most importantly, everything is done digitally via a mobile phone, just like in many other areas of life. We can order meals, gadgets, and everything else online, but why do I still have to call almost everywhere if I want to book a meeting room? From the booker's perspective, this process needs to be possible from home, while sitting on the couch. In other words, it should be fast, easy and mobile.
From the provider's point of view, the software must adapt to the circumstances and not the other way around. The software must be flexible enough to allow complex and individual scenarios. At the same time, the application needs to be so simple that it can be set up in just 30 to 60 minutes.
What role does mobile access play in an online booking tool?
As I've just described, it plays an extremely important role. More and more people are doing everything on their phone: tax returns, shopping, unlocking the house. When I book a meeting room, I have to be able to do it on my mobile phone. This is the 21st century after all.
In order to provide keyless access to customers, you decided to integrate with Tapkey. How was Tapkey implemented?
Without going into too much technical detail, we implemented Tapkey in our integration environment. The process is quite simple: the user has to authorize the integration at the beginning, connecting their Tapkey account. Next, they can set rules, which specify what permission is granted for a certain booking. Now, when a booking is completed, permissions for locks are automatically created according to defined rules.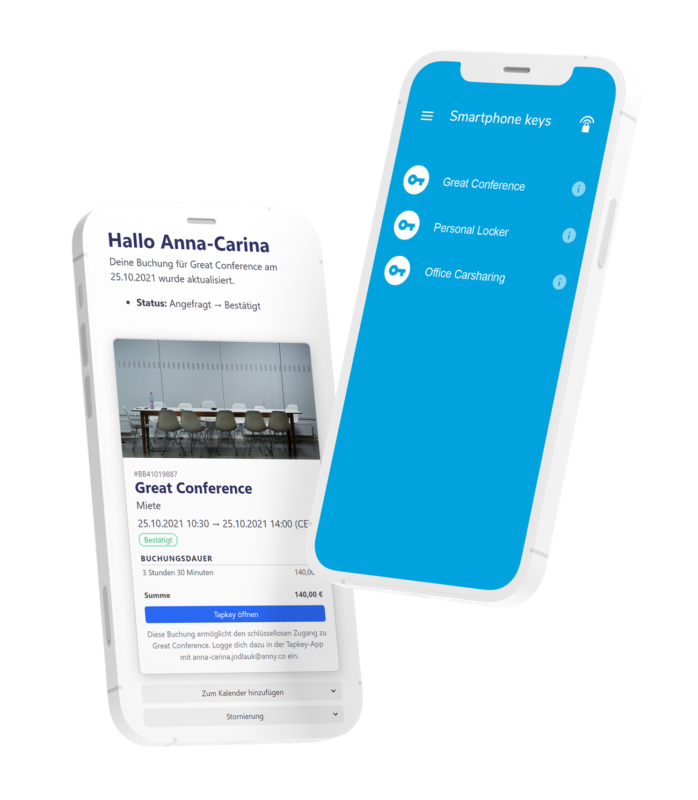 Can you describe/show us how the anny x Tapkey booking flow works?
The flow is very simple. The customer visits the booking page of a building complex using anny and Tapkey. The customer can then book in four steps:
Select room

Select desired time period

Enter personal data

Submit
In some cases, the provider chooses to manually confirm all booking requests. Once confirmed (automatically or manually), the authorisation for the room and (optional) central doors is then automatically set up for this customer. The customer instantly receives an email with instructions on how to use Tapkey keyless access. They don't have to worry about waiting in front of a locked room.
How would you describe the collaboration with Tapkey?
The cooperation was very pleasant and easy-going. At the beginning, we had a joint kick-off meeting with Tapkey and were able to clarify all our questions quickly. We implemented the integration in cooperation with our initial customer within 2 weeks. Thanks to this seamless communication, anny customers can now set up keyless access rules within minutes.
What benefits can customers now reap?
With this integration, we're one step further towards the complete digitalisation of modern room booking. Customers now benefit from an end-to-end process that can be handled entirely online: from booking to keyless access to the room. There's no longer any need to make phone calls or hand over keys on site.
Interview with Oliver Wycisk | Co-Founder & Developer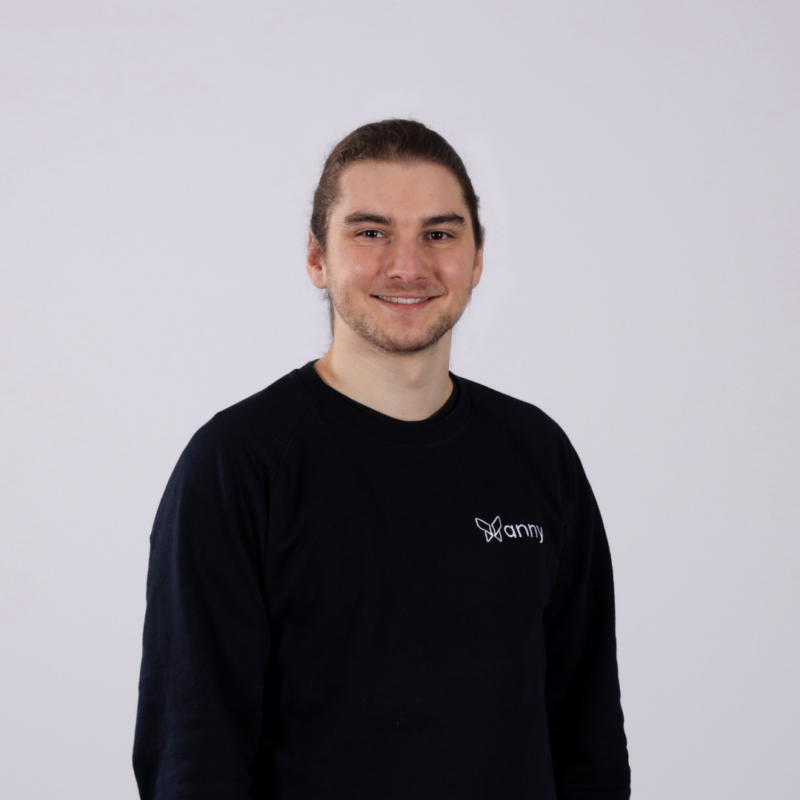 Oliver is Co-Founder and the Head of Development at anny, a fast-growing startup from Aachen, Germany, with customers across a wide variety of sectors. He has been developing web applications since his school years and has a cybersecurity background. Oliver is responsible for the whole team of developers at anny as well as the rapid implementation of features and integrations.