Since Tapkey is offering mobile access as a feature to vertical solutions from different industries, it's important for us to keep up to date with the current developments of each market, such as shared mobility. Hence we invited Venkatesh, Partnerships and Business Development at movmi, to talk to us about the challenges and opportunities of shared mobility. Find the extremely interesting insights in this interview and check out what parallels mobility as a service has with access control as a service.
1. Home office, distance learning or digital delivery services. The pandemic has significantly accelerated the acceptance of digital offers. To what extent does this also apply to shared mobility?
No surprise there. The distancing norms and remote working has made us look at things that we otherwise have been ignoring. Shared mobility in particular has been growing all through this decade until the global pandemic-led lockdown hit cities. The shared mobility ecosystem extends from micromobility to carsharing to public transit. All of which, as any other business, faced an uncertain future soon after. Carsharing saw a dip of more than 50% in many cities, micromobility services had to 'temporarily' exit certain markets. We saw and still see new trends picking up.
Carsharing and micromobility found great uptake in longer term rentals. Users were comfortable since the vehicles were digitally accessible and operators introduced weekly-monthly subscription packages. Operators could quickly update user experience to notify of these vehicles being sanitized, which soon has become a default expectation. Public transit operators worldwide have embraced digital solutions to revive ridership while making it safer to travel together. Disruption has been an everyday term in shared mobility especially in the past 12 months and digitalization has been the magic wand.
2. What are in your opinion the top 3 trends for shared mobility in 2021?
a. Subscription
Utilization in shared mobility basically means the number of hours in a day that the vehicle is rented vs the total hours that vehicle was available (active). With daily commuting no longer needed, renting vehicles as per usage wasn't that attractive. Rather users preferred keeping a dedicated vehicle to themselves (that way they don't feel the need to disinfect it often). Long term rentals and subscription offers a great balance. Guaranteed availability vs the hassle of long term commitment which comes with ownership. Starting with carsharing, subscription quickly took off in scootersharing and mopedsharing.
b. Digital ticketing
Many public transit agencies soon realized that they've been missing out on the digital trends. Mobile contactless ticketing has seen huge uptake in the past year. Helped by the rise in popularity of MaaS where transit and other shared mobility services are accessible through a single smartphone app, digital ticketing has helped not just such integrations, but even as a standalone solution. The biggest hurdle remains digital payment options which have increasingly been overcome by alternative cash-loading options.
c. Integration or merging of business models
Previously distinct by design or just too lazy to integrate, we saw many business models merge with shared mobility services globally. Take food delivery for instance. The UberEats, Deliveroos and Doordashes of the world have formed alliances with micromobility operators to offer discounted rides to the delivery workers. Bikeshare and micromobility operators are integrating with public transit agencies over MaaS pilots. On-demand microtransit (DRT) solutions have been the lifeline for rural and urban localities where transit couldnt be feasible to reach or continue services. Conventional car rentals and automotive dealerships are now adopting digital solutions to provide contactless rentals and subscription services to their customers too and that's gaining popularity across markets.
3. When launching a new shared mobility service, a good user experience is indispensable. What makes a really good user experience?
Seamless-ness. I believe that's a better way of describing convenience. The digital world has forever longed to be 'seamless'. There's a compelling reason for it. We humans have 'sticky' patterns. Be it what coffee we get, how we shop online or how we travel around the city. Unless we have a life-changing event e.g. a pandemic, we won't change our pattern. Can we count on such events to impose the next change? Of course not! New mobility needs to fit 'seamlessly' within one's lifestyle. It's hyper-local, it's social and that's how it will work.
Take the evidences we see over the decades which have made us embrace major changes. Everything through an app. E-commerce saw a bigger boom when it went device-agnostic. In shared mobility, if one is used to taking public transit, first-last mile options must be available seamlessly – be it through a fare card, mobile app or even google maps – whatever works to reduce friction. If you want people to leave their cars behind, carsharing, micromobility options must be available right at your doorstep (or as close as possible). Accessing every service needs to be through the mode that the user is already familiar with.
4. How important would you rate automated access in this context?
It's a trend we see picking up. And I personally love it. Our lifestyle has been ever changing, and new services that build on creating the least friction are booming. Video and audio streaming is a perfect example of this. They've successfully moved our pattern of owning content to accessing them whenever we need. Similarly, mobility services that are accessible through the same app stand a better chance of attracting new customers. Access to lockers, offices, buildings are going digital and with shared mobility all have a chance to go through the same authentication process. Automation makes the transition between the different services we use during the day seamless.
5. Everyone in the shared mobility industry is talking about Mobility as a Service. In the access control industry, it's all about Access Control as a Service. What's it all about and where do you see parallels between these two?
In MaaS we are trying to leverage the benefit of one-time authentication, payment, visibility or planning across modes to make the experience as convenient as possible and thereby get more users. Access control would work the same way. With the appropriate collaboration, we already are seeing public lockers located at transit stations being accessed by your (RFID) fare card. Bringing all this under one roof will help create that pattern shift.
6. Let's look 10 years into the future. How do you think the shared mobility market will change? What role does movmi want to play in this?
10 years is way too long and as difficult to predict. Esp since 2020. Key areas that will see the biggest change are payments, single-platform access and smaller byte-size mobility modes.
The urban and rural transportation space is moving slowly but steadily in the right direction. Today the discrete nature of electric mobility, active transportation and public transit services is a great foundation for the future of shared mobility. We will see these merging together to provide the perfect localized solution for cities across the world. Not the same everywhere, but some form of a combined solution. Shared might not be the default choice but will be a compelling one to miss out on. Integrating different modes to suit different user needs with tailored solutions for the different communities and user cases will be at the heart of every city's transportation plan. We wish to keep helping design, build and improve that future.
Interview with Venkatesh, Partnerships and Business Development | movmi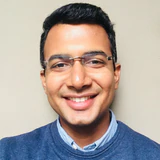 Having worked in automotive space for a decade, Venkatesh moved to Vancouver to help build shared mobility businesses. Convinced that there's more to transportation than owning and driving one's car, he adopted a car-free lifestyle to live what he helps build. Working with forward-thinking vehicle OEMs, mobility startups and cities at movmi, Venkatesh learns and understands what stakeholder expectations are and how to create financially and environmentally sustainable services.