In recent years, rapid developments in technology and the shifting landscape of workplaces as a whole have caused the security and access control industry to change significantly. Lee Odess, CEO and Founder of Inside Access Control and Group337, is exploring in an interview what the potential future of  access control will look like and what role does human microchipping plays. 
1. How do you feel the access control industry has changed since you started to work in this sector?
In short, a lot. In my opinion, the biggest change is the acceleration of phase changes that have been discussed for some time. For instance, cloud based architecture, mobile first, and dynamic user interfaces for specific verticals have seen far greater adoption than when I first came into the industry. 
2. SaaS (Software as a Service) or as it is often referred to "The Cloud" had a huge impact within access control and meant a paradigm shift. Nowadays companies focus on providing services instead of solely selling hardware. How can they profit from cloud-based access control systems?
It really depends on which stakeholder we are talking about. For access control manufacturers, cloud based offerings are a great way to incorporate software sales as a revenue stream vs traditionally just hardware revenue. For integrators, it's a great way to build in managed services into their offering and build a recurring revenue business model, resulting in a great way to make sure they have business continuity plans and value creation. For end users, it's a great way to grow and manage their access control systems. It also inherently allows for easier integration into 3rd party systems beyond access control, which in turn delivers you value beyond locking and unlocking doors. 
3. We're already using smartphones or biometrics to unlock doors instead of traditional key cards. What's the next great phase of physical access control? Will access control get really under our skin (human microchipping)? 
Great question. In regard to the next phase, I believe a couple things are going to happen sooner rather than later.
First, we will be talking about hybrid systems vs cloud or client server based systems. Our industry is typically later to broader technology trends and that is why we are seeing a focus on cloud right now. I do think that it will quickly shift to hybrid where you see the need for great local computing, coupled with going into the cloud only when needed. Edge devices like readers, controllers, locks and mobile devices are getting more powerful every day. Smash that together with the privacy and security concerns people and companies have with their data going off site to a 3rd party cloud and you have a great scenario for hybrid to be the proper configuration.
Second, I think we will see access control more as a feature than a stand alone industry. Forever our systems have had one job: safety. Now, though, access controls value increases exponentially when integrated into other systems like HR, CRM, delivery, tenant experience, and now, health. End users are looking for more value beyond just safety from their utility systems like access control.
As far as human microchipping, I think we are way off from seeing mainstream adoption. It will first show up in wearables and embedded in things like clothes, glasses, and rings. I think digestibles would happen first. Maybe a pill you swallow that emits but over time passes. People do not like needles and trust is still too big of a concern for most people to allow a microchip to be embedded in their hand, for instance. Sure, there will be people that will do it, but it will be more of a corner case, marketing / promotion exercise than mainstream reality. 
4. What other trends do you see that will shape the future of access control?
I believe we will see the following trends sooner rather than later:
The dealer and integrator channel is going to change.  Due to the Covid-19 crisis, the industry has seen the importance of the channel grow even greater than before.  They are now not only labeled "essential" but acting accordingly. Not sure what it means yet but something is going to change. Maybe we will see more roll ups, manufacturers going vertical, or consolidation to "super dealers."
Health being a primary focus of the security industry. Up till now, our industry really did not have a health story. But now? Who wants to grab a door handle or touch a door knob? No one. So what is our industry's answer? We either have one or someone externally will do it for us. 
Visitor management is the new access control interface and is actually a trojan horse to disruption of the traditional access control companies. And it goes beyond visitors now. There is a need for data, digital visualization, notification, and situational awareness for visitors, employees and anyone coming to or at your office, lobby, gym, restaurant, etc. 
The need to leverage the ecosystem and partners to compete and deliver a complete solution is going to be a trend. Companies are realizing there is no way they can do everything and in a timely manner. By partnering they will realize that 1+1 can equal 3. Majority of the time it's not a technical reason why they do not partner more, it's an emotional reason. For example they may have the not invented here syndrome or fear. It's time to get over it.  Do what you do best, bring in the partners that do what they do best and together the results will be exponentially better. It happens all the time outside our industry.
5. At the end, I would like to refer to your paradigm busting map of the physical access control industry. What can big global lock manufacturers, such as Assa Assa Abloy, HID or dormakaba, learn from tech companies like Tapkey and the other way round?
To my last point above, they can all learn how to partner and leverage 3rd party expertise better. Historically they either try to do it all by themselves or feel they need to acquire their way into being able to do it. Comes down to control and a belief, not a fact but a belief, that they can do it better if it's done in house. I can make a great argument that this is not true anymore.
Interview with Lee Odess, CEO and Founder | Inside Acess Control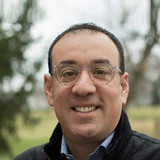 Lee founded Inside Access Control, a media platform focused on the physical access control industry, and Group337, a Growth Studio focused on business creation in the CRETech, proptech and smart home markets for small to large companies in the security, access control and IOT industry. Prior to that, Lee served as Vice President of Strategic Partnering for Allegion PLC and formerly led teams at UniKey Technologies, Brivo Inc., Lutron Electronics and his own companies, Energy + Light + Control and Fresh Confections.