flinkey x Tapkey – the Success Story
One-Click Mobility: One vehicle, 2—3—4 or more drivers, no handover of keys. It doesn't just sound like new dynamics, it also solves organisational problems with just one tap. WITTE Digital has developed the solution for a relaxed everyday life.

Mobility paired with total flexibility, efficiency and safety. This solution is used in different areas. Not only fleets benefit from this new type of vehicle allocation. The black box from Witte Digital enables a flexible organisation of the company fleet to measurably optimise business processes. Now known as "flinkey", this smart solution is gaining a lot of attention.
Efficiency. For Sure.
flinkey opens doors and new possibilities. It can be used for car sharing without annoying key handover and inconvenient search for the location of the vehicle. It's all possible: spontaneous and flexible use of vehicles for each authorised person and test drives of the desired brand model outside the opening hours at the car dealership. You can control vehicle rental of unused vehicles and trunk delivery—easily and documented.
The right technology is the key to success. With flinkey, WITTE Digital has developed an intelligent access system that combines flexibility and mobility. The box is simply placed anywhere in the vehicle with the appropriate key and you're ready to go. The manufacturer-independent system even allows the integration of older vehicles with central locking system into mobility-optimised vehicle fleets with incomparable flexibility.
The app also collects the GPS position and allows that other services can be provided, such as car trunk delivery or vehicle rental. Totally carefree! The vehicle is insured against theft (up to a fair value of € 50,000,–).
What used to mean great logistical planning is now easy and fast to implement for companies and as a business idea. flinkey means more efficiency for corporate fleets, craftsmen, car sharing, car rentals and car dealerships.
Ingenious Idea, Smart Implementation, Attractive Application
You can place the flinkey box quickly and easily in any vehicle. A costly disassembly of car keys or mounting and associated installation costs are eliminated. The installation takes around 3 minutes and the car is instantly ready to use. The mobile key is controlled by an app, so that vehicles and authorisations can be assigned easily and quickly.
The connection between the phone and the box works at any time even without an internet connection via Bluetooth. A mechanism presses the opening / closing of the vehicle key. Safe and trouble-free in use, robust in storage. The box can be used without power supply for up to 21 days. Charging takes place via a 12 V connection in the vehicle.
Interfaces enable a modular expansion of the possibilities for a wide variety of user requirements. In times when everyone has their smartphone in their pockets, nobody should burden themselves with a key anymore.
Guest article by WITTE Digital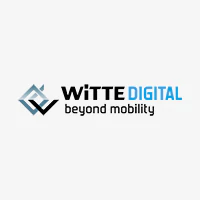 WITTE Digital is the young, digital business unit of WITTE Automotive based in Velbert. The company develops innovative digital automotive solutions, solutions for the mobility of tomorrow. As part of the global group, we have decades of automotive engineering experience. With flinkey, WITTE Automotive offers a solution for fleet management and the aftermarket that perfectly combines digital and classic locking technology.