Skepp x Tapkey – the Success Story
Security is not the only benefit of having an access control system. Offering such a PropTech solution allows landlords to reduce staff needed at reception to manage guest arrivals. Read on to find out how we've partnered with SKEPP, the largest Office as a Service provider in Europe. Joey Veurink, Chief Financial Officer at SKEPP talks about how they integrated our technology into their own platform and why he would choose Tapkey again and again.
Hi, Joey, thank you for taking the time to talk with us. Please give us a short introduction about SKEPP and what your role in the company is.
SKEPP is the largest Office as a service provider in Europe. You can imagine it as an Airbnb for office spaces. In addition to matching tenants and landlords of office space, we also provide furniture and smart building solutions. I'm the CFO for two years now and responsible for all finance and legal related topics. Due to my background in innovation management I spent half my time on business development and strategic innovation topics. It's quite a mix of activities that fits with a young and quick growing company.
"Office as a Service"—What does that mean for you?
Well, we see that society is changing quickly . Especially the younger generation is used to increased market transparency and wants quick and full access to information. This is not different for the real estate market. Companies are becoming a lot more dynamic, office spaces grow or shrink and we see an increased demand of flexibility. It's far more dynamic than it used to be. Office as a Service means that you choose and only pay exactly what you need for your office environment. Our offers to the market should be able to deal with such flexibility and such a quickly changing environment. And if you do this as a provider, it means truly Office as a Service.
SKEPP offers three products: Officelisting, Officeplanner and Officekit. Could you explain them shortly and tell us where access control comes into play.
Officelisting is the online platform to match the demand and supply, tenants and landlords of office space. We do this in eight European countries with over 1.000 landlords. Officeplanner is the one-stop-shop for furnishing your existing or new office. We offer phone booths and flexible solutions like a meeting box. It's even possible to virtually furnish the office.
Our third product is the Officekit, a smart building solution. We upgrade office buildings to new service levels, but in a technological way. So you don't have the cost of adding new people or staff. Instead of a manned-reception, we offer a digital reception. Similar service level, but fits better to efficient landlords. Access control is offered as part of our Officekit. It's taking off so quickly in revenue terms because we integrate our various service solutions into one app. On our platform you can book an office unit fully online and we match the reservation with the lock and the invoicing is done completely automated. The combination of those products with the access system provides a unique product offering in the market.
In order to provide keyless access to customers, you decided to seamlessly integrate our technology into your own app. How was Tapkey (technically) implemented and what was the main reason you decided to go with Tapkey? 
We looked at different solutions—both on the technical and strategic level. Tapkey clearly outperformed the others. 
For us it's very important to provide our offering on a white label basis. Landlords always have their own branding and their own concept. That also means that all the solutions that we integrate in our app need to be white labeled as well. Tapkey matched with the total offering and the way we could integrate with you—it fitted perfectly.
How is it used in daily operations? 
In general, there are three interface options: the app, one portal for landlords and one portal for tenants. Everybody can use the app for their daily management of the office. You open the lock with the app and make your reservation with the app. In the portal for landlords, you can add administrators. By appointing someone as an administrator, a landlord no longer has to keep track of all individual keys per tenants and its employees. Once you get a new tenant in a building, you only have to add him as an administrator and he's ready to grant full or limited access rights. You just tell him which locks he can manage. Normally it's the main door and one or two offices–but not the whole building. And at the end, all tenants can enter the building by using the SKEPP app.
What advantages does this seamless integration bring for you?
Thanks to the Tapkey API and Mobile SDK, we were able to integrate your technology into our app, but also to integrate it with other functions. Not every other provider goes that far and allows to do that. 
The implementation allows us to create a product offering which is quite unique in the market. 
Why is it so important for PropTech companies to integrate 24/7 keyless access?
Simply said: Keyless access means efficiency. Everybody uses their phone nowadays. The chances to forget the keys are a lot higher than the chances to forget the phone. Especially since we added payment to the smartphone, it will not take long till identity is included. If you match that to the increased flexibility that tenants want, it's a logical step. We have developers rather working at night than during the day and those kind of shifts are growing. You simply can not stay working with keys or cards, and having to call your landlords who have to physically be on site to hand over keys. Tenants want to decide spontaneously to not work from home, but from the office. They want it to be arranged within an hour and a digital access system allows this.
How would you describe the cooperation between SKEPP and Tapkey in general? 
Of course, an integration is a process that takes some time. When we started the cooperation, we were more or less in the same state as companies, learning from similar challenges. That made it easy to discuss technical problems and needs. Thanks to your detailed documentation, our developers could easily integrate Tapkey. They were pleased that they could openly talk about issues. The Tapkey support quickly made sure to solve the problem and together we managed to get the product to a higher level overall. 
What's the feedback of your customers?
On the one hand, landlords love the efficiency it brings with it. It's not just about access. It's a combination of different features. Landlords can delegate every effort they used to have to the tenants. On the other hand, tenants only have to use one app. There are many competitive solutions out there, but they are all single solution providers. Nobody wants to open five different apps in daily life. Tenants like the responsibility they get. They can manage their own environment instead of calling the landlord. They are empowered by the app, because it's very functional. It's focused on the main functions in a building. 
Nevertheless, we are always looking to add functions, but only based on customer feedback and actual needs. In the field of access control we're expanding our options for parking spaces. Right now you can reserve a physical parking spot in the app. Then we combine that with the access system and a barrier at the parking lot. When somebody arrives, they already received the email beforehand and if they press the button, the barrier actually opens.
Interview with Joey Veurink, CFO | SKEPP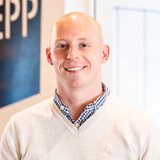 Joey is CFO at SKEPP, the largest Office as a Service provider in Europe. With a background in Venture Capital and Innovation Management, Joey is responsible for the fast paced and disruptive innovations that SKEPP is bringing to the market, resulting in year-to-year triple digit growth.