In today's fast-paced world, health and fitness have become a priority for many people. PT Pods, founded by Mike Mair, is a revolutionary concept, providing a safe and private space for users to work out without interruption. One of the key features of PT Pods is mobile access, which is made possible through the integration of Tapkey technology.
Mike's passion for health and fitness began at a young age and during lockdown, he built a small concrete square with a wooden squat rack. It was during this time that he realized that many people, particularly women, don't like being watched by men and feel self-conscious in traditional gyms. This realization led to the creation of PT Pods, a private gym space where users can be trained by following the big-screen TV.
The Concept
It's simple; users can download the PT Pods app, find their nearest Pod, book a time or exercise class that suits them, and enter the Pod using the app integrated with Tapkey technology. And most importantly, exercise in private. PT PODS offer a safe space for users to be guided through a work-out routine, or simply a private gym for you to have access to equipment without interruption. The integration of Tapkey into the PT Pods app means that users can access their local PT Pod at any time, without the need for a mechanical key or receptionist. This provides a level of convenience and flexibility that traditional gyms cannot match.
PT Pods is not just limited to a specific location.
The vision is to have PT Pods dotted all over the globe, so that users are never far away from their local Pod. Whether they are working from home, working at the office, or on a business trip, their local gym will always be accessible. – Mike Mair, Founder PT Pods
PT Pods & the Tapkey Integration
One of PT Pods key features is mobile access. Members don't need a pumped-up personal trainer welcoming them to a crowded gym; instead, PT Pods give them the freedom to come and go as they please. It allows users to work out on their own terms. With the ability to book a time that suits them and access the Pod using the PT Pods app, users can exercise at a time that is convenient for them. This is especially important for people who are working from home or have busy schedules, as it eliminates the need to make time for a trip to a traditional gym. To provide this feature, PT Pods decided to integrate with Tapkey. With its stylish lock, Tapkey fits in well with the overall look of the Pods and our Web API & Mobile SDK provides the functionality for users to unlock the Pods from within the PT Pods app.
Mobile access is at the heart of our business, without it our business model wouldn't work. – Mike Mair, Founder PT Pods
In addition, mobile access also provides a level of security for PT Pods users. With the ability to access the Pod using the PT Pods app, users can be sure that only authorized individuals are entering the Pod. This ensures that the Pod remains private and secure at all times.
In conclusion, PT Pods is a game-changer in the health and fitness industry. It provides a safe and private space for users to work out, without interruption. With the integration of Tapkeys mobile access technology, PT Pods gives users maximum flexibility, making it the perfect solution for those who are working from home or on the go. Keep an eye out for PT Pods popping up in your area!
Interview with Mike Mair | Founder of PT Pods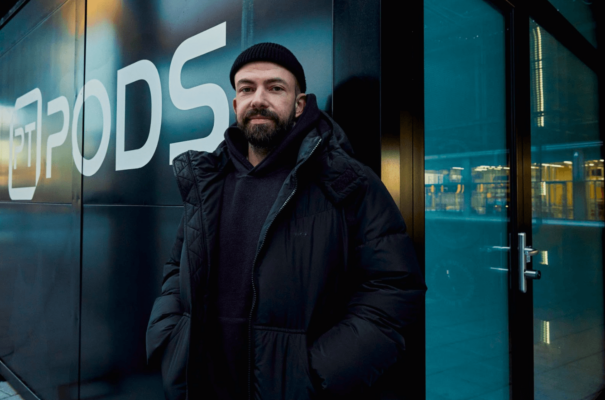 Mike Mair, a 36-year-old fitness enthusiast and techno music producer hailing from Aberdeen, Scotland, currently resides in London. He holds a degree in Structural Engineering, and has a career in subsea installation engineering and management. In addition to his passion for health and fitness, Mike also enjoys creating and performing techno music, with his tracks available on various music platforms like Spotify and Apple Music. The promotional video for PT Pods features one of his tracks.