From 31st August to 5th September 2018, Tapkey will be at the world's leading consumer electronics and home appliance fair, IFA in Berlin, as partner of Conrad Connect.

Conrad Connect is an IoT platform that enables users to connect intelligent devices and services and automate complex processes as projects. The Tapkey App is connected via a simple interface (API) with the smart living platform of Conrad Connect. This allows smart home solutions to be combined with Tapkey's access solutions.

Manage access and temperature of a conference room
Tapkey presents an exciting use case for coworking spaces at the partner stand of Conrad Connect. You want to give people access to a conference room and provide an optimal indoor climate at the same time? The combined use of Tapkey Smart Locks, Sensibos Air Conditioner Controlling, Honeywell Radiator Management and Google Calendar makes it possible!
The use case shows how booking a conference room via the Google Calendar automatically sends an access authorization to the organizer and activates the air conditioning or heating system depending on the temperature. The whole thing works according to the "if this, then that" principle.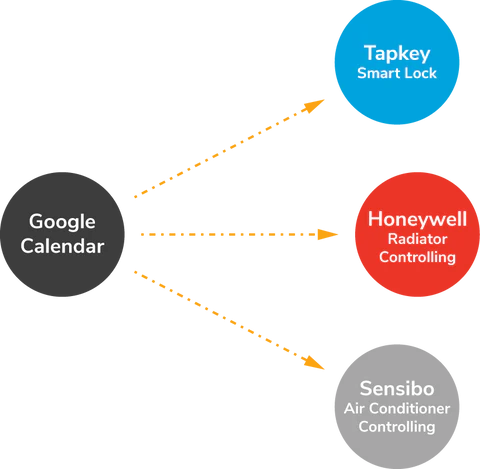 Here is a concrete example: You have reserved the conference room "Berlin" on 30th August 2018 at 09:00 a.m. for 1 hour.
If
Calendar entry "meeting" (30th August 2018 from 09:00 to 10:00 o'clock)
Then
an access authorization for the Tapkey Smart Lock will be sent to you for this period of time

the Sensibo air conditioning is switched on at 08:45 and switched off again at 10:00 again.
The same scenario works also with the heating system by Honeywell in winter.
Would you like to know more about it?
Then visit us at the IFA: from 31st August to 5th September, 2018, Messe Berlin, Hall 6.2, 102.